Get Protection Beyond Fences
SpotterRF introduced the world's first network surveillance radar, already 2009.
Now the radars are in use on every continent in the world.

The solution at its core is wide-area detection and tracking – which provides advanced warning and response through automated alarms. Using cutting-edge radar technology, SpotterRF presents the GPS location of potential intruders around your property. The radar system tells PTZ cameras where to look in real-time so they're never looking in the wrong direction when you need them most.
And it integrates the alarms into your system so that you get the alarms how you need them. This is Protection Beyond Fences™.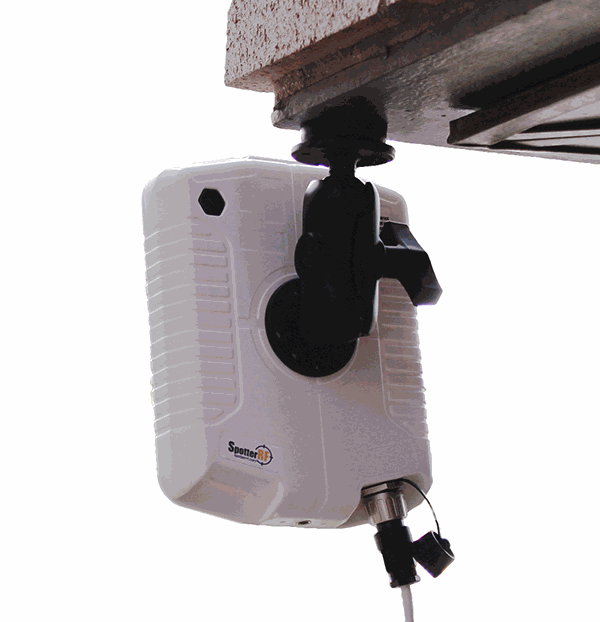 Plug & Play

Installation is as simple as connecting a single ethernet cable. SpotterRF has developed tight integrations with the leading PTZ camera, VMS, and PSIM platforms. Implementation is seamless and easy.
Designed and Engineered For Existing Infrastructure

Implement a superior perimeter security system without installing anything at your perimeter.
Because the radars are so flexible in their ability to cover wide areas, the fixed solutions can utilize existing infrastructure (such as buildings and existing poles) to eliminate the need for trenching and new pole construction.
The CK-series is perfect for smaller sites such as substations in urban or suburban environments, the CK-Series radars run on the 24GHz band, which means no headaches or hassle with acquiring spectrum licenses. Combine with the small form factor, low power draw, and quick install time, the CK-Series radars can cover your site in high heat, fog, rain, or snow.

Covering 30–380 acres, the C-series radars are currently installed on every inhabited continent. In fact, one of the main reasons our customers choose us over the competition is because SpotterRF radars perform reliably well in any environment and weather condition they're used in. It's also so small it can be installed on nearly any existing infrastructure and setup time is a matter of minutes instead of hours or days. The wider vertical field of view of the C-series makes it easier to acquire and track potential threats on rugged, uneven terrain.

---
The radars ensure that security personnel has enhanced awareness in all weather conditions both day and night.
As a security operator, you'll love it because it's easy to use. It's like having a dedicated PTZ camera operator
for each camera, giving complete visibility of every site.
As a security manager, you'll love it because it provides superior coverage at a lower cost, it's easy to install,
and it's easy to integrate with your current system.
With SpotterRF's radars, you're able to cover 20 times the area at the same cost as thermal cameras
running video analytics with a fraction of the false alarms.

Airports
Bridges
Commercial Facilities
Construction Sites
Dams
Data Center
Fish Farms
Gas Compressor Stations
Government Facilities
Mines
Mobile/Temporary Protection
Ports
Nuclear Power Plants
Oil Wells
Residential Estates
Service Centers
Substations
UAV Protection
See this video comparison between radar detection and camera visuals during hard weather conditions
See this drone application to learn more
---
Combining eyes & ears with brains!

The radars takes care of doing the detection, but you want it to be something more.
The NetworkedIO (NIO) handles the tracks, radars, cameras and devices in a unique way, different from any other systems interfaces. Which makes it yours to customize and every project tailor-made to give you the best possible solution. The NIO is using a geo-referenced user interface that works right from your browser.